Interview with Retired Cam Girl BabyLeah98 aka Leah Riley (@leah_bubblegum)
January 3, 2019
You met her as BabyLeah98. The busty blonde with perfect triple E natural breast from Canada is now in 2019 a retired cam girl. Busty Leah – who changed her name to Leah Ripley- had a roller coaster of emotions while camming. I did have the pleasure to talk to Leah on the phone and know a bit o f her journey back in 2017.  Leah accepted to do this exit interview in order to say bye to the fans and close this chapter in her life. It had ups and downs. While we cannot be sure what the future holds, Boobsrealm.com and its fans wish her the best in her future endeavors. Good vibes for Leah.
Leah considers herself a BBW nowadays as she gained weight. However, experts as myself can assure her that even with some extra pounds she is way hotter and prettier than the vast majority of active busty girls.
We Will miss BabyLeah, but our baby has to grow up and continue her path.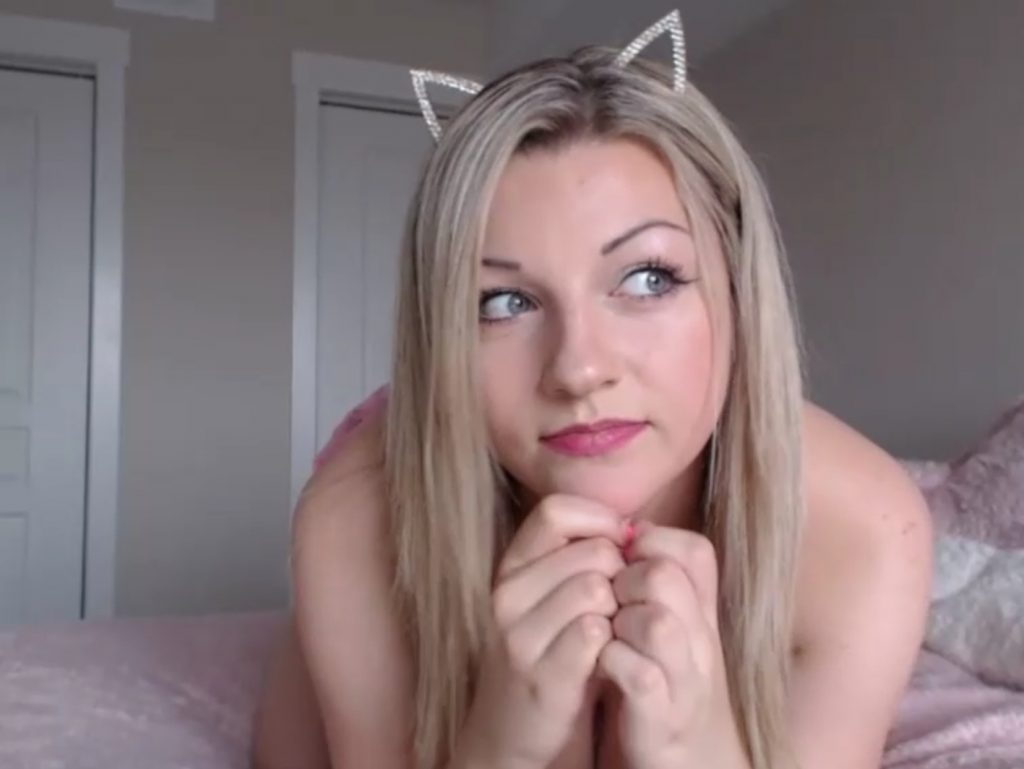 When and why did you decide to quit camming?
I decided to quit camming when my grandmother passed away just before Christmas. When she passed I started thinking a lot about life and that I could die any day and I want to die knowing that I've helped a lot of people. I want to be a nurse or a paramedic. So I want to start that journey now because we never know what day will be our last.
What are some of the happiest memories from camming?
Some of the happiest memories from camming is receiving lots of emails saying that I've helped people when they are feeling sad or anxious. That they can just turn on the laptop and hangout with me and that helps their mood. One guy actually told me that his wife passed away and he never wanted to leave the house or take his motorcycle out he bought a month after she got diagnosed with cancer. Well he messaged me saying thank you and that just hanging out with me has helped him do things he never wanted to before like take his bike back out again. Receiving messages like that are the happiest moments I have. Camming is more that just getting naked and doing sexual things. It's about connecting with real people and making them smile too.
What a fine sexy busty girl we have lost guys!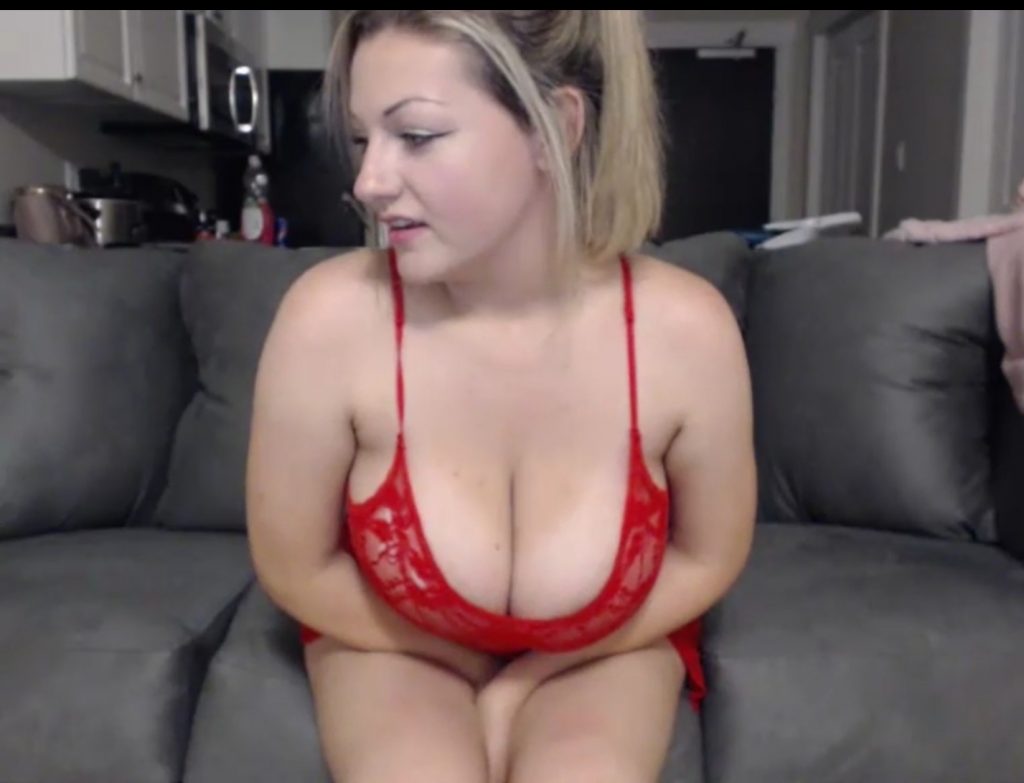 What you liked the least? any specific event?
What I liked the least about camming was the people that couldn't understand that I wasn't just a sex machine. Webcam models are real human beings with feelings and emotions. When people would come into my chatroom and demand things from me or get upset when I couldn't get wet it upset me a lot because we can't always control certain things. Also the hate. When I gained weight and people pointed it out it destroyed me.
You started on MFC almost a couple of years ago then went to Chaturbate. What advise would you give to yourself before your first cam show?
The advice I'd give to myself before my first cam show is don't let these people boss you around or make you feel horrible because you don't feel comfortable doing something they want. You don't have to do anything you don't feel comfortable doing. I did a lot of things I didn't feel comfortable doing. I would also tell myself before my first cam show that the amount of tokens you get doesn't determine your self worth. Sometimes I'd go on cam for an hour and make $5 and then I would beat myself up about it and cry. But it had nothing to do with me. There's always slow days or slow hours.
You know some big boobs topless and porn sites were interested in you.
Why you never decided to give modeling a try?
The reason I never tried modelling for big boob topless porn sites that reached out to me was because I wanted to be independent. I wanted to make my own content and not make money for other companies. I guess my independence is from being a Virgo ;).
For those who do not know I wanted to launch an experimental site with Leah, but at the end we never agreed on doing it. This was the logo for her website.

What are your plans for the future?
My plans for the future is to get my GED and then go to college for nursing or to be a paramedic. I haven't decided which one yet.
I read your twitter timeline and saw that you consider yourself a BBW. Honestly you are not fat, just gained weight but still look good. I can tell you you are fine! Do you think this whole webcam experience and changes in front of an audience have helped you i your self-esteem, or played against it?
Honestly I'm not quite sure if my camming experience and changing size in front of an audience has helped my self esteem or not. I've gained 40 pounds in the last year and a lot of people have told me I'm still beautiful but there was a huge amount of people calling me fat and disgusting compared to the first year I started camming. So I'm still not sure if camming has helped my self esteem or not because my self esteem is still low.
You started wearing a 34E bra last year, what size are your breast now?
I started wearing a 34E bra last year. I got measured 3 months ago and I was told I'm still an E. I guess the fat on the side of my boobs doesn't count in the measurement lol because they're clearly so much bigger. I've been actually having a lot of lower back pain lately so they're for sure bigger just don't know the size.
What was the reaction of your family and people you know when they found out you were a cam girl?
When I told my family I was a cam girl they were extremely supportive. They didn't judge me at all which I'm so thankful for. A few of my family members actually told me they would cam if they could.
Screenshot from mobile phone
What message would you like to give to the girls out there who  are considering trying webcam?
The message I would like to give girls out there that would like to start camming is please put away 30% of what you earn for taxes. I made a lot of money my first year camming and then it slowed down. So in the beginning I wasn't too worried about putting money away because I thought my income was going to stay the same. The amount I was making the first year dropped dramatically the second year. So just know your income isn't promised and be smart and don't make the mistake I did and please put 30% for taxes.
What was more annoying? dick pics or guys kissing your ass all the time?
Dick pictures definitely annoyed me. I've seen so many dicks. Why do you think I want to see your dick!? I just cringe.
Are you still gonna follow some cam girls and watch some shows?
I think I might delete my twitter and all social media related to camming for religious reasons. That decision isn't definite yet.
You never got to receive a BoobsRealm.com Tank top. Would you wear one for a one last set of pics?
If I received a BoobsRealm.com tank top I would not wear it for religious purposes. I will not be taking anymore sexual pictures or videos ever again.
Would your manyvids still be active?
My manyvids will be taken down soon.
What are your favorites:
– Food: chicken burgers
– Drink: Wine
– tv show: Catfish
– Quote: "Through every dark night there is a brighter day" which is tattooed on my ribs
– Movie: I don't have a favorite movie.
– Spit, swallow or facial?: if I had to pick between spit swallow and facial it would be swallow! Cum to the eye is the most painful thing I've ever experienced. Stings like a bitch.
Leah did a few boy/girl shows with the stupid ex she had =).
Is there a message for the fans reading the interview?
A message for my fans reading this interview is I'm sorry that my time is up for being a sex worker. I'm going to miss talking to you guys so much. I will never ever forget the nights I went on cam and just cried to you guys about horrible things going on in my life. I had anxiety attacks and you guys calmed me down. One day I stayed on cam for like 24 hours crying and laughing. I grew up a lot in the last two years and you guys were there to see that and I want to thank the people that have given me advice and cheered me up. I'm really going to miss you guys. I suffer from anxiety and I have my favourite people to watch on YouTube to calm me down and if I was one of those people to you I am so sorry that I'm leaving. It actually breaks my heart. I wish you all the best in life! Thank you for being a part of mine.
Thanks Leah and thanks for the memories!
Below some never seen-before photos of Leah from a few of her cam shows. Just look at this gorgeous girl and her perfect breast. That is the face a human doll has! Thanks for the memories and the mammaries Leah!
The link below is to watch Vivian Blush First ever topless