Antonella Kahllo and her big tits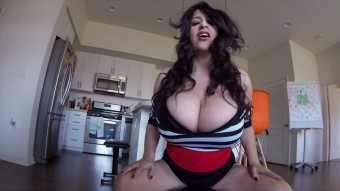 Big Tetas Antonella Kahllo, the two-time Miss Boobs Realm is very active and gets her big giant tits even more active. Antonella shows her giant knockers to the camera and puts up a video for us on her official website.
Mamacita Antonella Kahllo plays with her giant tits on camera. Her hands can't hold those big naturals. I bet part of her daily workout is lifting those monster tits with her bare hands. I would love to add that to my daily routine too. I'm sure Antonella has string arms now, but I'm sure those big boobs are even stronger. Who would love to risk his life motor-boating her? Sign me up!