Zoey James loves BoobsRealm, Beth Lily nude, Leanne Crow Tessa Fowler retires from cam
December 12, 2015
Zoey James loves boobsrealm. She takes a photo of her boobs saying hi to this blog. Zoey is a super cute girl who does hot camshows. Zoey is exclusive to her own videos and is a very sweet girl who I have had the chance to chat with. I strongly recommend you to check out Zoey James on webcam and also buy her videos. You can follow her on twitter at @ZoeyJamesX
Thanks to you guys sharing her camshows Tessa Fowler have stopped doing them. I chatted with Tessa some time ago and I can tell you that she was not happy that you guys recored her videos and post them online. Well, remember what some of the fans did to Lucie Wilde? This time thanks to the guys sharing cam girls videos Tessa is now out of the cam world. That is not the only reason, but it really contributed. Camming is supposed to be an intimate experience between fans and models, but some guys just destroyed it. I hope Tessa can go back to her MFC room. Well, the good news is that Leanne Crow is still on MFC.
Leanne Crow on MFC every night. Right now she flashed them on public chat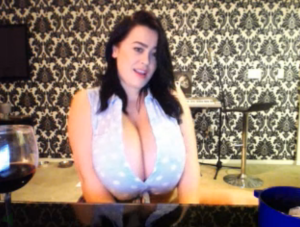 BTW, her friend has a pretty face
British boobs prodigy teen Beth Lily is in NYC right now. Before taking the plane Beth did a photoshoot for the last ever Zoo printed magazine photoshoot. I share with you a BTS photo Beth took. Also below you will find a rare video of Beth with no panties.. Her huge boobs look incredibly big. Those breasts are literally heaven!
And Beth Lily with no panties is really hot.. No matter how many times you look at the video you won't see her gorgeous shaved pussy, but it is nice to fantasize.